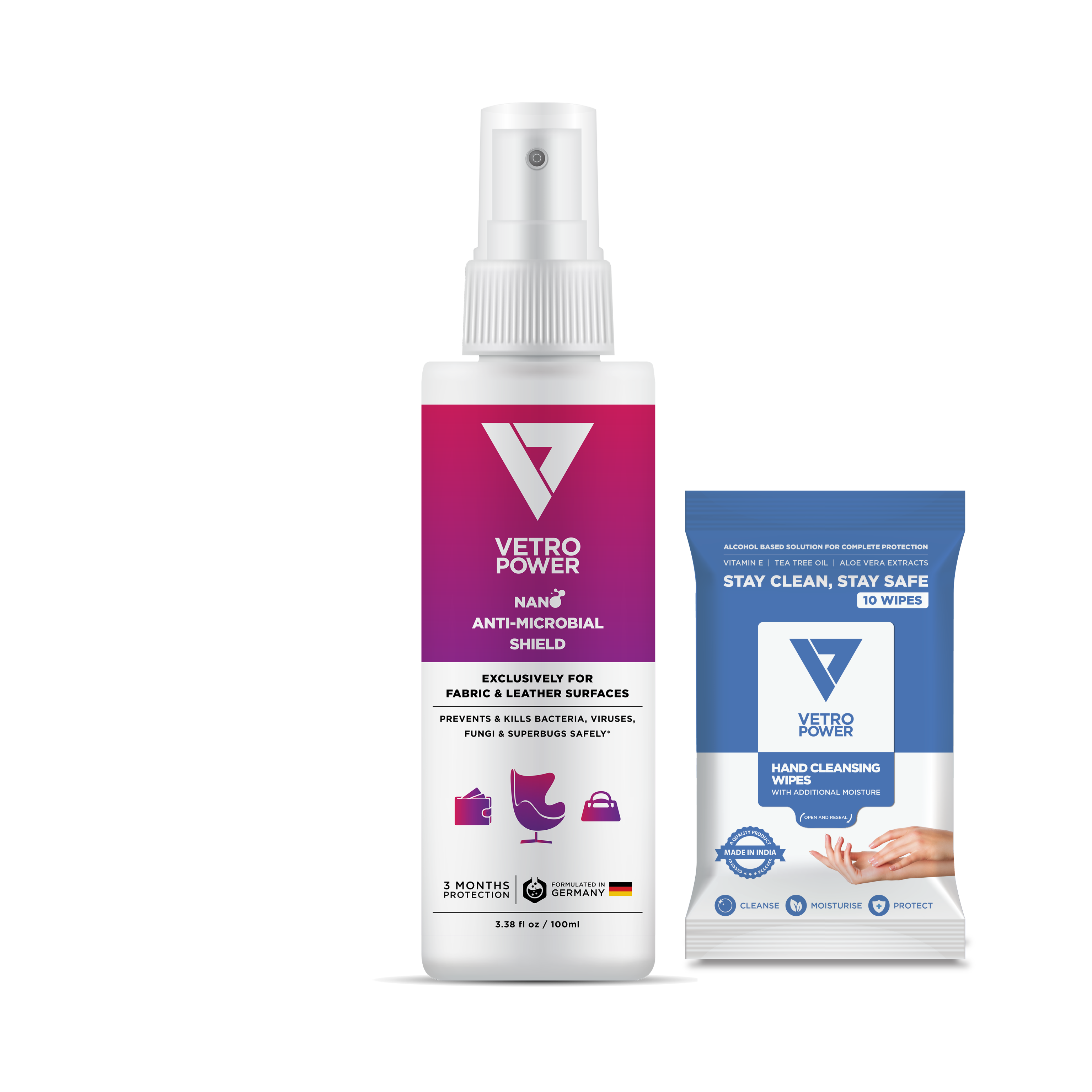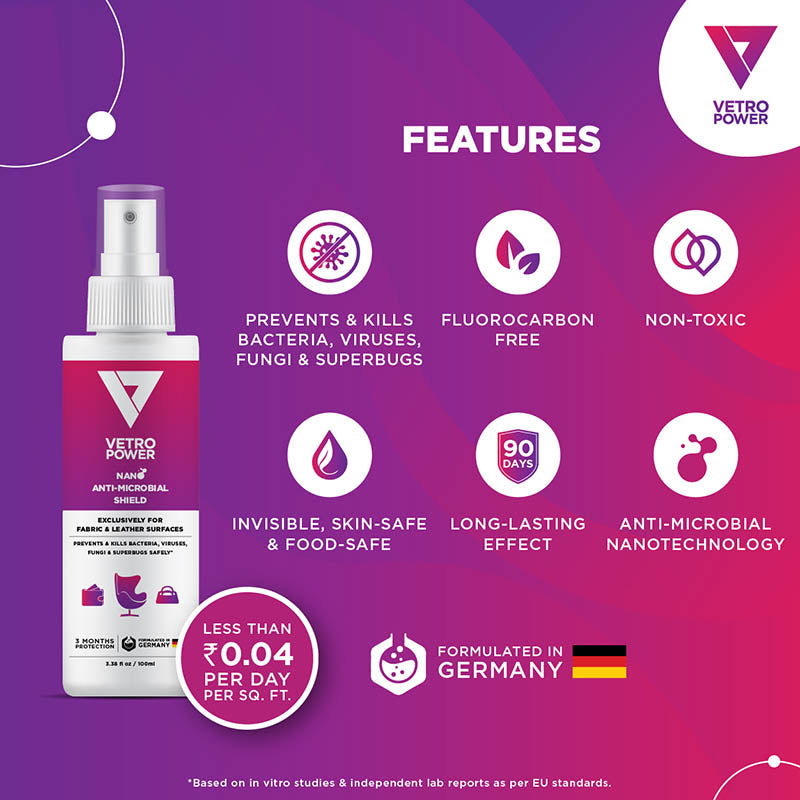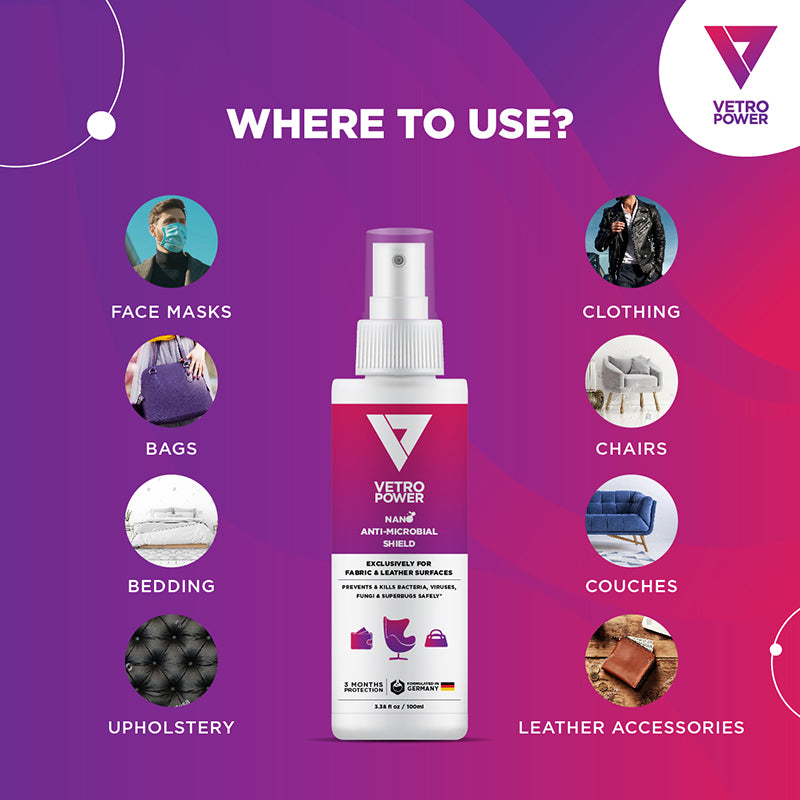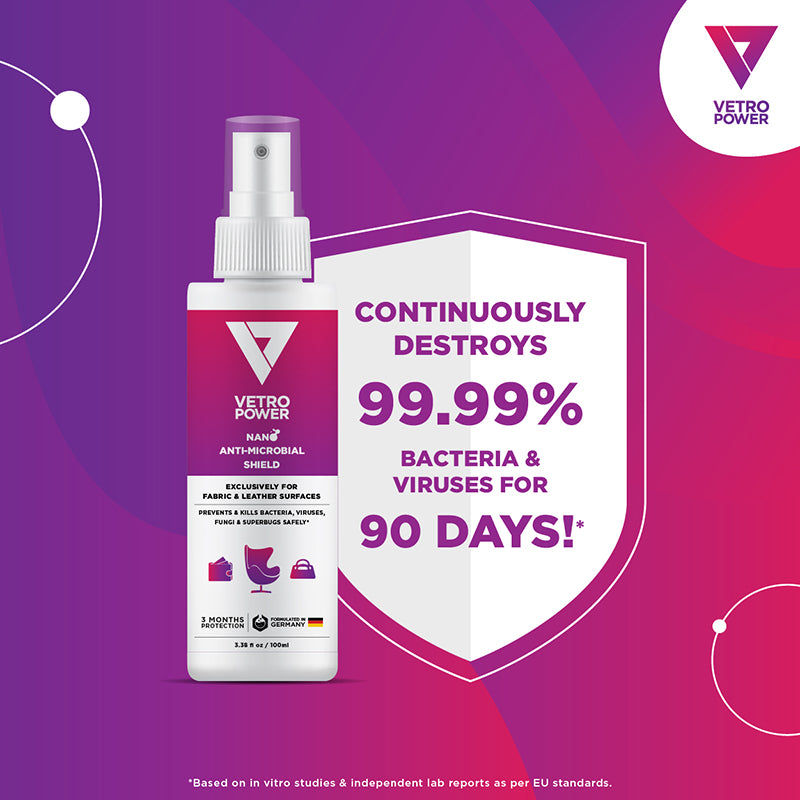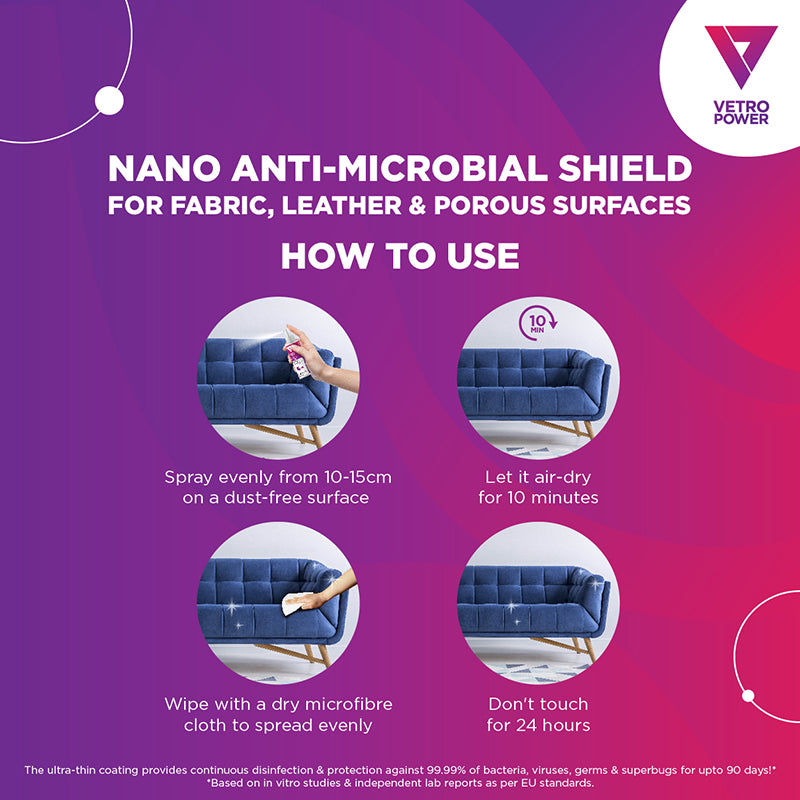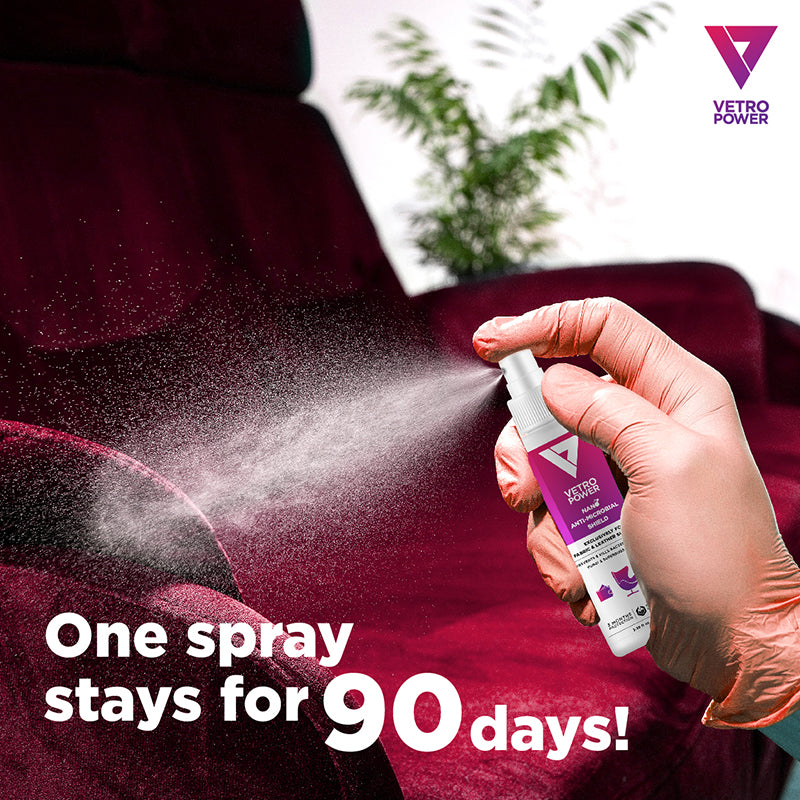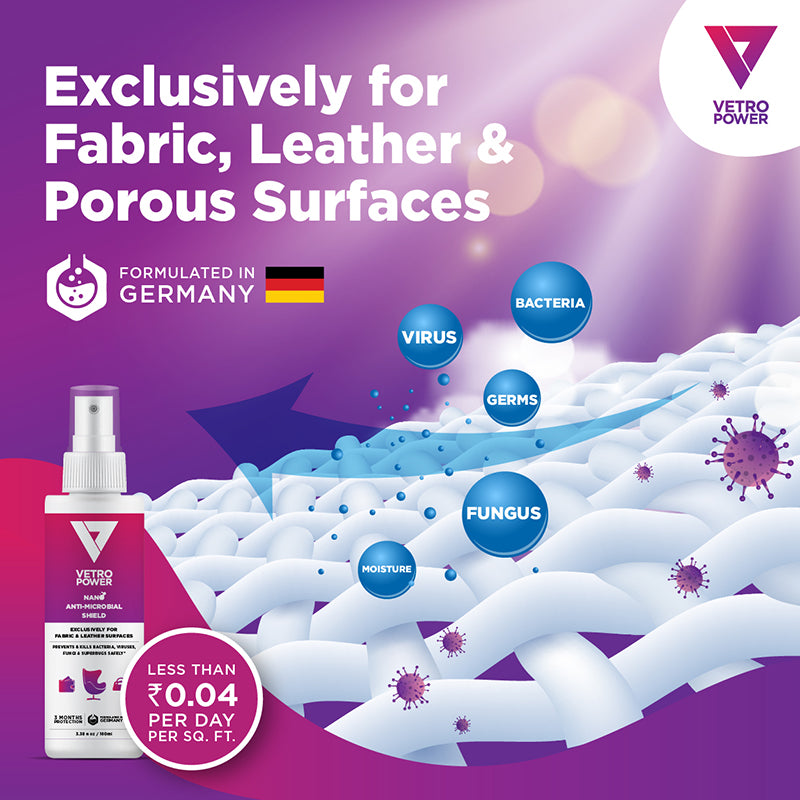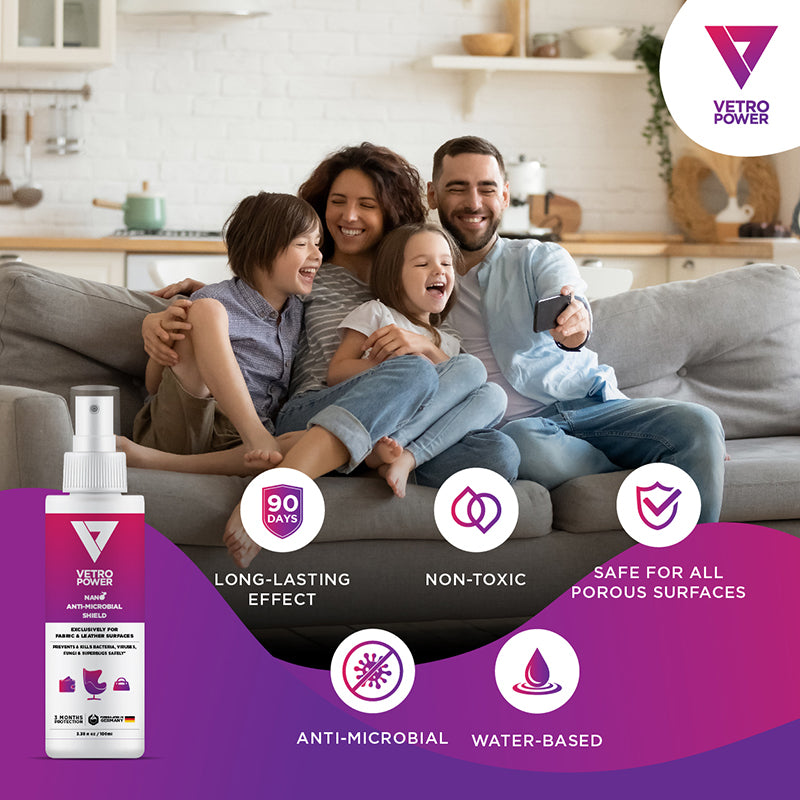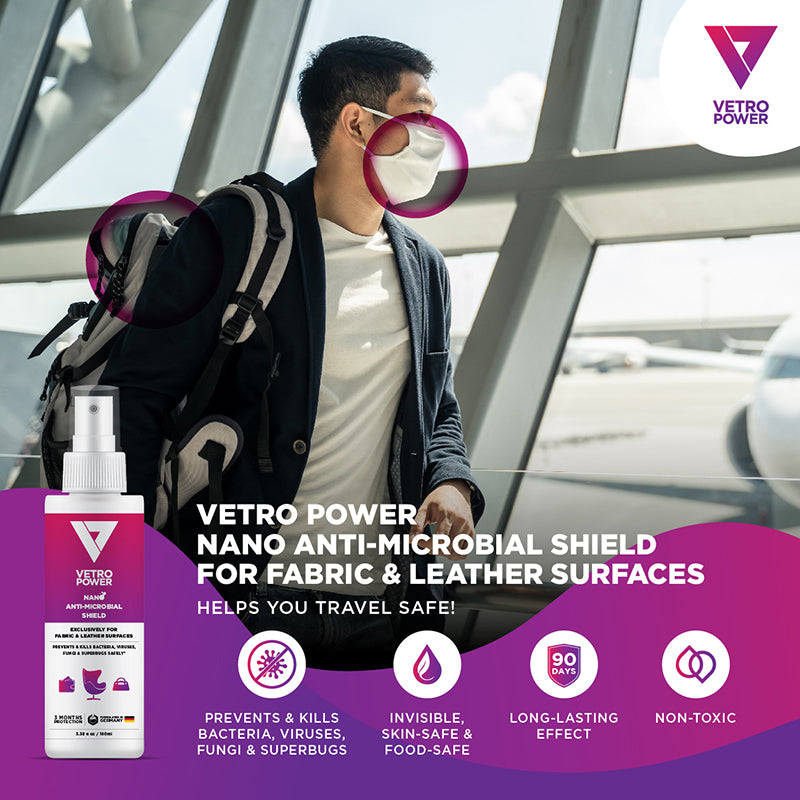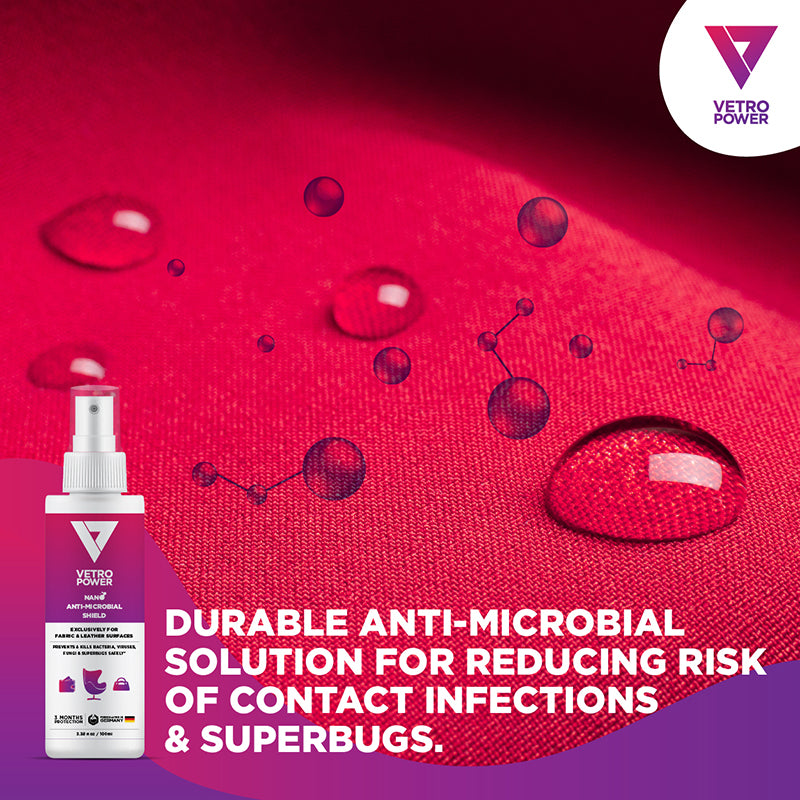 Vetro Power Nano Anti-Microbial Shield for Fabric & Leather Surfaces 100ml - Buy 1 Get 1 Hand Wipes (pack of 10) FREE
Buy 1 Anti-Microbial Shield For Fabric & Leather Surfaces 100ml Get 1 Hand Wipes (pack of 10) FREE

Net Quantity: 1 Vetro Power Nano Anti-Microbial Shield for Fabric & Leather Surfaces 100ml 

& 1 Hand Cleansing Wipes (pack of 10).
Vetro Power Nanotechnology Anti-Microbial Shield 100ml is a german formulated surface disinfectant & protectant for fabric, leather & porous surfaces. The coating prevents & continuously kills 99.99% Bacteria, Viruses, Germs, Fungi & Superbugs safely for upto 90 Days.
REVOLUTIONARY GERMAN NANOTECHNOLOGY FOR ANTI-MICROBIAL PROTECTION – Vetro Power's Nano Anti-Microbial Shield forms an ultra-thin coating that provides not only immediate disinfection, but continuous long-term protection by inhibiting the spread of germs. This invisible layer has been tested against a host of microorganisms & viruses killing them safely & preventing them from surviving on the surface permanently.
LAB CERTIFIED & SAFE: Our technology has been successfully tested as per European standards to reduce the risk of contact infections & superbugs. We have extensive scientific findings tested by reputable research laboratories for biocompatibility, cytotoxicity, bacteria reduction & more.
LONG TERM PROTECTION ON FABRIC, LEATHER & POROUS SURFACES: With a one-time application that lasts upto 3 months, all forms of bacteria, viruses, fungi, pathogens & mould are sealed out, keeping your homes, possessions, offices & cars safe and hygienic. Durable solution that mitigates risk of airborne, moisture borne & surface contact diseases.
WATER-BASED, FOOD & SKIN-SAFE, NON-TOXIC & FLUOROCARBON FREE: Our product is 100% water-based & maintains breathability while remaining eco-friendly - free of harmful solvents, aerosols & aggressive substances.
EASY TO USE WITH GREAT LONG-LASTING VALUE – Can be applied by simply spraying the desired surface evenly and waiting for 24 hours prior to use. 100ml is applicable for upto 20 ft2. Reduces the need for constant sanitisation & disinfection thus saving water & use of cleaning agents.
RECOMMENDED TO USE on high contact surfaces such as Bedding, Upholstery, Couches, Bags, Leather Goods, Wallets, Clothing & Face Masks.
Vetro Power Hand Cleansing Wipes' advanced formula keeps your hands clean, germ free; while leaving your skin feeling soft and fresh.
10% off on your first order
---
Free Shipping Available Across India
Clean the Surface
Use our microfibre cloth to clean the surface from dust and dry stains.
Spray on Surface
Please read the product guide and spray evenly across the surface.
Vetro Powered World
Wait 4-5 minutes for it to dry and you are ready to go!
VIEW ALL TURORIALS
NANOTECHNOLOGY FORMULATION 100% SUSTAINABLE