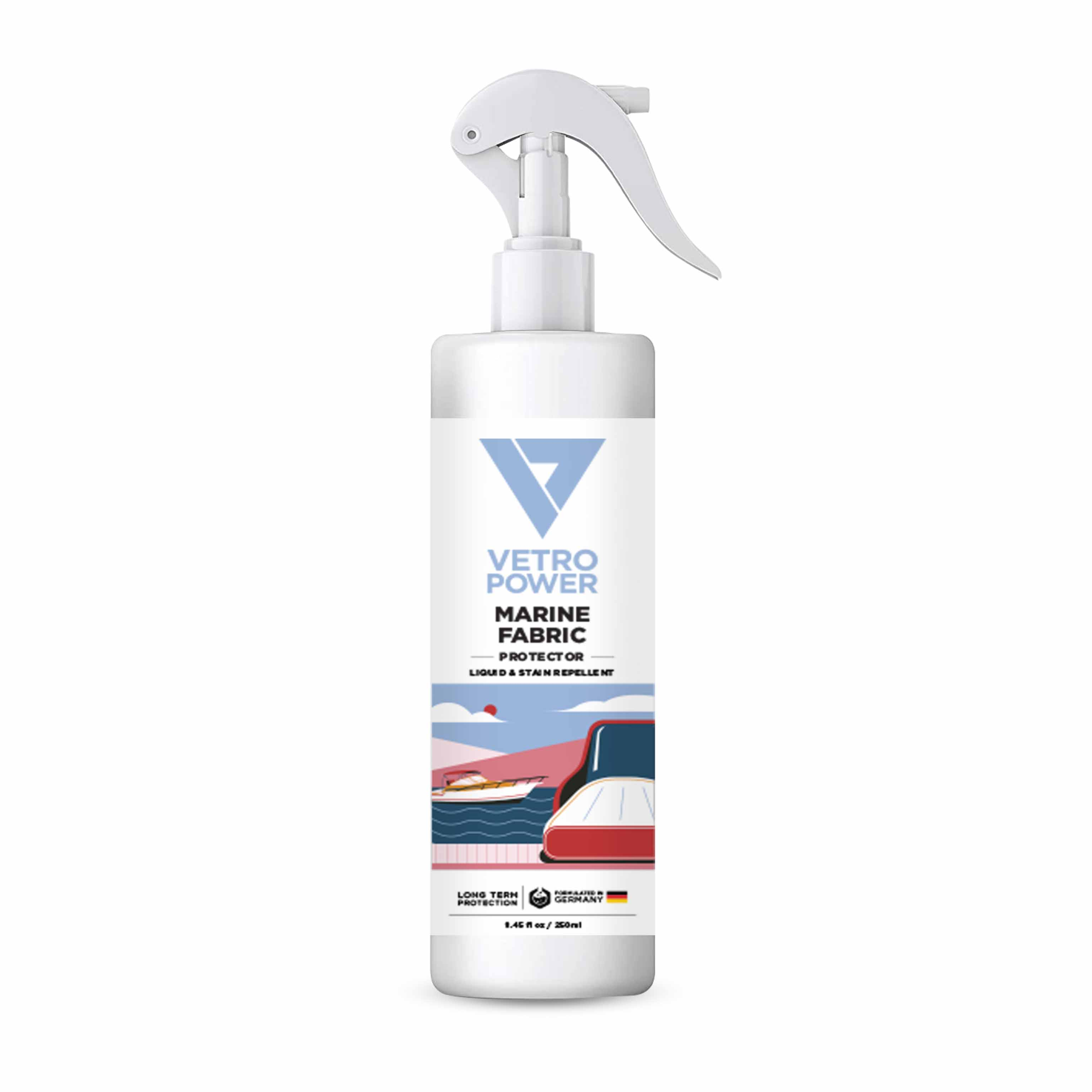 Vetro Power Marine Fabric Protector 250ml
Vetro Power Marine Fabric Protector Spray, Invisible Water and Stain Repellent Formula, Non-Toxic, Protects Sailcloth, canvas, window material, Upholstery Fabric and many more, restore water repellency of the fabric to factory levels, 250ml
INNOVATIVE TECHNOLOGY: Vetro Power Marine Fabric Protector is a powerful nanotechnology-based liquid & stain repellent for marine fabrics, including marine upholstery fabric, sailcloth, canvas, window material and more, to restore water repellency of the fabric to factory levels

PERFECT WATER AND STAIN REPELLENT SPRAY: A simple spray increases resistance and protects your fabric from everyday accidental stains and spills of liquid (water, alcohol, oil etc.) 

INVISIBLE, SUPERHYDROPHOBIC and SELF-CLEANING: The nano particles form a superhydrophobic coating layer on the surface of the fabric which is completely invisible and Non-Toxic.

SAFE TO USE FOR ALL COLORS: Vetro Power's water-based formula is safe to use on all absorbent textile including fabric, suede, nubuck, leather, cloth, canvas, polyester, nylon, synthetics & more. It will not change colour, look & feel of the coated surface.

LONG LASTING COATING: A single application forms an ultra-thin & invisible coating that provides long lasting protection against water, liquids, stains & spills. One time application will provide protection against water up to a year depending on usage.
10% off on your first order
---
Free Shipping Available Across India
Clean the Surface
Use our microfibre cloth to clean the surface from dust and dry stains.
Spray on Surface
Please read the product guide and spray evenly across the surface.
Vetro Powered World
Wait 4-5 minutes for it to dry and you are ready to go!
VIEW ALL TURORIALS
NANOTECHNOLOGY FORMULATION 100% SUSTAINABLE